Iowa Animal Partnership: Building the Bridge Between Rescues and Shelters
Have you heard of Iowa Animal Partnership?  Here at A.P.E., we work hand in hand with Iowa Animal Partnership (IAP) – while we serve Iowa with our spay, neuter, vaccination, and microchip services, IAP serves us and other Iowa shelters with food and supplies.  This doesn't cost shelters and rescues a thing!  In fact, this service maximizes shelter budgets and increases communication between Iowa nonprofits.
Here's how it works:  IAP receives donations from both the public and other rescues/shelters.  The donations can, of course, be monetary, but IAP is always in need of pet food of all types. During the summer, any garage-sale-type item in good condition will work as a donation. They are able to sell those donations, which will be used to purchase more products for shelters and rescues.  In addition, IAP receives unneeded food and animal supplies from other shelters who, for whatever reason, no longer need them.  Those supplies are then donated to other shelters or rescues in need.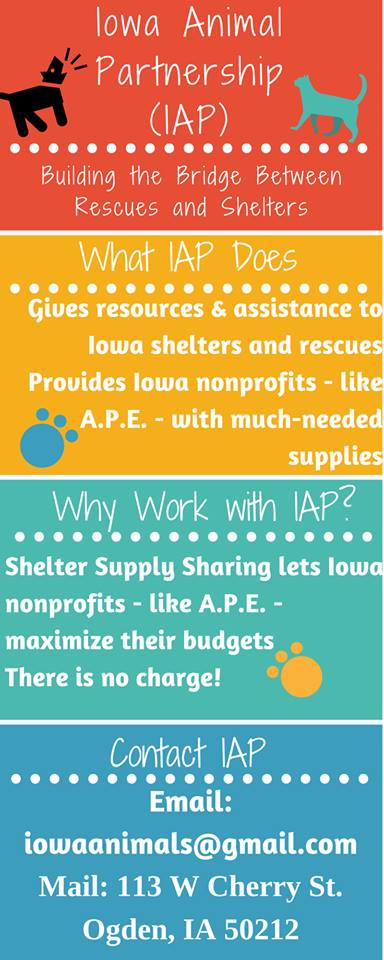 The organization's volunteers have converted a trailer into a climate-controlled warehouse. Shelters and rescues are able visit this warehouse to shop for items they need. Often, they can find items that they did not know were available.
Currently, they serve 15 counties but are willing to help any licensed nonprofit in Iowa.  Their website states several times that they will never turn away anyone who genuinely needs help caring for an animal.  It's a win-win for everybody!
For more information, visit Iowa Animal Partnership's website here or email them at iowaanimals@gmail.com.
And don't forget to support A.P.E. when you are doing your Christmas shopping on Amazon!