Holiday Safety Tips for Pets
The holidays can be stressful for everyone.  But what many of us might not think about is how all this Christmas chaos affects our pets. From unhealthy leftovers to poisonous plants, here are the things you should be aware of this week: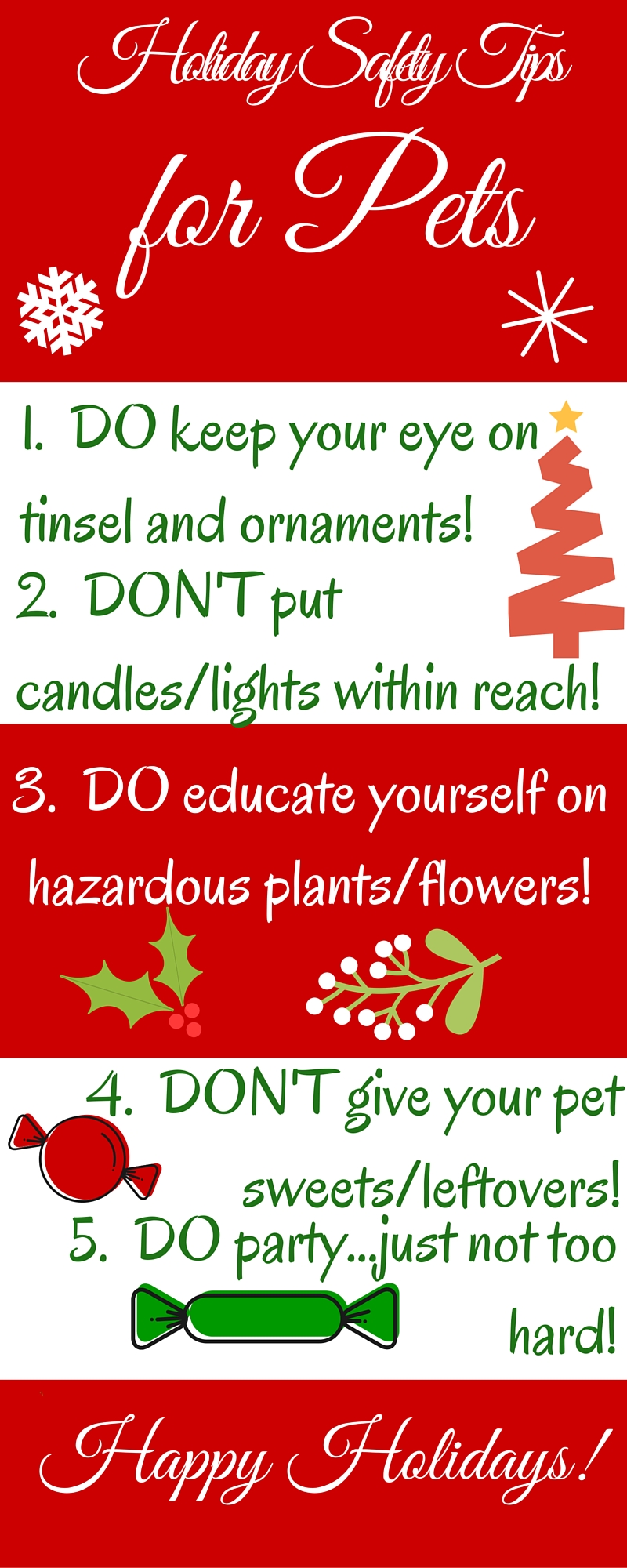 DO keep your eye on tinsel and ornaments!  When decorating your tree, make sure you hang tinsel and ornaments high enough so your dog or cat can't get at them.  Tinsel is extremely dangerous if ingested, since it's so thin it can easily wrap around an animal's intestines.  Ornaments can be risky as well if broken and chewed on, so you should consider sturdy ornaments that will not break if you've got an especially curious cat.
DON'T put candles or lights within reach of paws!  It would be easy for a wagging tail to knock over a burning candle, so make sure to never leave a lit one unattended.  Twinkly lights are beautiful and festive, but sometimes the electrical cords can seem irresistible to a playful puppy or kitty.  (Remember the poor cat in the movie Christmas Vacation?!)  Be cautious, and always unplug cords when you leave the house.
DO educate yourself on hazardous plants/flowers!  We always hear about mistletoe and holly this time of year, but unfortunately, those are two of the most dangerous plants for cats and dogs.  If ingested, they can cause severe problems for your pet and could even be deadly.  Poinsettias and Christmas cactus should also be avoided, though they aren't as hazardous – these plants can cause irritation in your pet's mouth.  And lilies, though not necessarily a "Christmas flower", can cause kidney failure in cats.  Put your holiday plants up high enough where dogs and cats cannot get to them – better yet, get some fake ones instead!
DON'T share your sweets and leftovers with your pet!  We know: It's hard to resist your furry friend's begging face.  But it's just not worth it – there are too many foods that could make your pet very sick.  These include chocolate, unbaked dough, grapes/raisins, and Xylitol (a sugar substitute found in many sweets).  Chicken and turkey bones, though considered by many to be a traditional dog treat, can be very dangerous for Fido and can even cause intestinal blockage or perforation.  Alcohol should also obviously never be shared with your pets.  Make sure the lids of your garbage cans are secure this Christmas, and fill up a Kong with healthy treats to keep your pup busy while you eat.
DO party…just not too hard!  The hustle and bustle of the holidays and the coming and going of guests may be fun for you, but it might not be for your pet.  In fact, it can be quite stressful for them – the constant visitors and activities are confusing.  Make sure your pet has a safe space to retreat to if it all becomes too much.  Teach visiting children how to behave around your dog or cat, and have your guests be respectful of your pet's space.
Many of these tips may seem like common sense, but they're all worth keeping in mind during the holiday season, not to mention they could save you a costly trip to the vet!
Everyone here at A.P.E. would like to wish you a safe and happy holiday, and don't forget:  A.P.E. is always in need of fosters, particularly after the holidays when unwanted "gifts" are often surrendered to us.  Click here to fill out an application to foster!  And in case you haven't finished your holiday shopping, support A.P.E. by using Amazon Smile!