For the Love of Cats
Comments are off for this post.
Many of you have heard of or have seen an article that was printed in the City View section of the Des Moines Newspaper and in our local paper, the Jefferson Herald. ("Why It Should Be OK to Shoot Cats Anywhere in Iowa" (
http://tinyurl.com/p62gaom
) by Douglas Burns) The article being discussed hit so many nerves, I really do not know where to start… In the article, the writer used stereotypes and racial remarks against, women, gays, and cat lovers.  
It is hard to believe that such hatred, which explicitly advocates the illegal-activity of shooting cats, would be printed, regardless of it being an opinion piece. 
One thing that should be stressed is that we have worked with the Jefferson Herald for many years. These views are not those of the paper, but ones of one writer. The writer happens to own the paper along with other family members.
Where do we draw the line for printed press without infringing on our freedom of speech? Would they print anyone else's rant, against so many people? Would they print their ideas, which encourage illegal activates? I would think not.  
Another news source in Greene County is putting their own spin on this article.
Greene County News Online is asking for people to send them an email, 25 words or less, why you love cats. If we can get 50 people to write in by October 31, the online news source will make a donation to both our county shelter PAWS and to APE.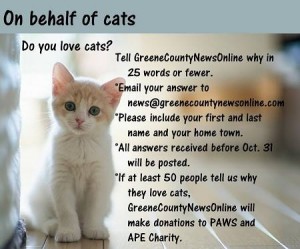 It will be easy to forget the disrespectful article and continue to protect animals and educate the public. Please email Greene County News Online at news@GreeneCountyNewsOnline.com by October 31, and tell them in 25 words or less why you love cats. You will need to include your name and home town. Your comments about why you love cats will be posted under the Opinion tab at Greene County News online
.