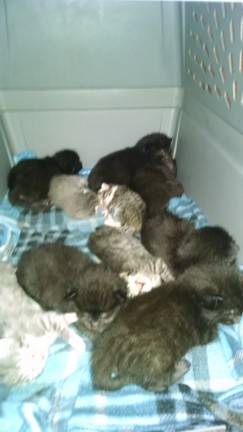 Area Vet – Client with Too Many Cats.
Comments are off for this post.
Dec 29, 2014
The Animal Protection and Education Charity (A.P.E.) of Paton, IA (www.GoAPE.info) was contacted by an area veterinarian (Slater Animal Hospital) referring us to a client of theirs. The client has too many cats and in need of assistance. There are at least 40 cats needing to spayed / neutered. He told A.P.E. today that he has at least 40 in the house and more outside as barn cats. To top it all off, he is in foreclosure!
Now is NOT the time to past judgment but to help!!!
On Jan 7th we hope to have volunteers go to his acreage to pick up at least 20 of the 40 that need vetted. On Jan 8th the vet will be spaying and neutering the cats at her clinic with A.P.E.
He is currently hesitant to give us a total of all the cats on his property. We are under the impression there is A LOT! We are hoping to get donated cat food and litter to offset the $400 a week he is paying to feed the cats. The thought is he can use this savings to get caught back up on his mortgage. This will also give us some time to network the cats into new homes and No-Kill shelters. Frankly, if he gets foreclosed on all the cats will most likely end up in a high volume shelter where their fate will be dim in an already crowded system!!
What you can do:
Donate any type of cat food or litter
Donate gift cards to Walmart, Theisens, etc. for supplies
Donate monetary funds to help pay for the cats surgery, (females $50, males $40 for everything: surgery by a licensed vet, Rabies & Distemper vaccine, microchip ID, parasite treatment with Revolution for the control of hookworms, roundworms, fleas and ear-mites for up to 30 days)
Offer to adopt a housecat or barn cat
Offer to adopt a barn cat
Offer to foster care one or more of these cats!!
Offer to foster care a litter of kittens (yes, we are told there are kittens on site)
Forward and share this
Please contact A.P.E. with any help you can offer at www.GoAPE.info
, united4ape@gmail.com or 515.460.7729
Thank You