5 Reasons Pets Shouldn't Be Presents
During late January and February, there is a significant spike in owner surrenders in shelters everywhere. This is because gift-givers, with good intentions, impulsively surprise loved ones with new pets. This is done without carefully weighing the pros and cons of such a major decision.  People rarely plan well when deciding to give a pet as a gift; it is incredibly risky to surprise someone with such a huge commitment.  Here are 5 reasons you should rethink giving a pet as a gift this Christmas.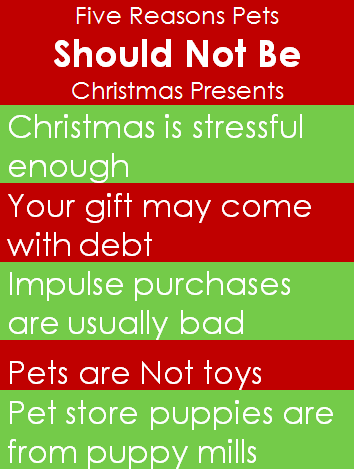 1.  Let's face it:  The Christmas season is stressful enough.  Everyone is frantically purchasing last-minute gifts.  Family is visiting.  The house is full of kids and relatives.  Ribbons, tinsel, and all sorts of food cover nearly every surface.  Plus, the weather outside is frightful!  Do we really need to add a brand-new pet to all that stress?!  A dog or cat is already sure to be scared and stressed out in a new environment – you can imagine how all the holiday drama would make them feel.  A new pet deserves tons of time and attention, and those are things many people just won't be able to give this time of year.
2.  Along with a new pet, you may be gifting your loved one with a load of debt.  The majority of pets given as holiday gifts are also given as a surprise.  You think your aunt will just adore the new Yorkie puppy you surprised her with.  And she probably will…but will she also adore the expense that comes with a new pet?  Pets come with a lot of needs, and many of them can be a drain on your finances.  Costs for food, toys, veterinary care, boarding expenses, grooming, etc. may be overwhelming for someone not expecting to receive a pet as a gift.
3.  Impulse purchases usually mean bad decisions.  You've been there before:  You go to Target to pick up milk and eggs, and you leave with a cart full of throw pillows and candles.  You see something cute, buy it on impulse, and end up thinking…Was that really a good decision?  Buying a pet as a gift is this x100.  Yes, of course that new puppy is adorable – but is your loved one prepared for all of the potty-accidents, chewing, and play-biting that puppies go through?  Furthermore, have you done your research on breeds?  Australian Shepherd puppies are beautiful, but the breed requires LOTS of exercise – are you prepared for that?  Most of the time, the decision to give a pet as a gift is not given the careful thought it deserves.
4.  Pets are not new toys for your children.  A pet is a commitment and, we believe at A.P.E., a member of the family.  They are not a new toy for your child to play with.  We've all seen commercials and movies that show an adorable kid lifting the lid of a box to reveal a new puppy or kitten.  But what those ads don't show you is what happens later:  The child gets bored with the pet, starts to forget about it, slacks on chores like feeding, picking up after them, and giving them lots of playtime.  The parents then have to pick up the slack, and oftentimes, the pet is returned, given away, or taken to a shelter.  Kids have notoriously short attention spans, and giving them a living creature is NOT a good way to teach responsibility.
5.  Pet store puppies are puppy mill puppies.  Unless a pet store goes out of their way to talk about partnering with a rescue to adopt out pets, they probably get their puppies from a puppy mill.  Reputable breeders will not sell their puppies through a pet store.  The problem here is that gift-givers might see a sign in a window of a pet store advertising adorable puppies and act on impulse.  Chances are they don't realize where these puppies came from.  Puppy millers tend to rake in the cash around the holidays.  Our suggestion is to just stay away from pet stores that sell puppies and kittens.  Take your loved one to a shelter instead and help them decide which pet is right for them.
The only time a pet should be given as a gift is when the decision has been made by all involved and given plenty of thought, time, and research….and even then, wait until after the holidays, and remember that adoption is the best option!
What else can you do?  What about taking your loved one to an animal shelter and letting them check out their options themselves?  Or show them available animals on Petfinder or another similar site?  (Click here to see our current adoptable animals!)  Purchase books on training a puppy for your loved one – let them decide before making the decision.  Many shelters and rescues offer gift certificates to be used toward an adoption fee once they have found the pet of their dreams.  Since A.P.E. is a chamber member, you can also purchase chamber bucks and use them as gift certificates.
Don't forget!:  A.P.E. is always in need of fosters, particularly after the holidays when unwanted "gifts" are often surrendered to us.  Click here to fill out an application to foster!  And in case you haven't finished your holiday shopping, support A.P.E. by using Amazon Smile!